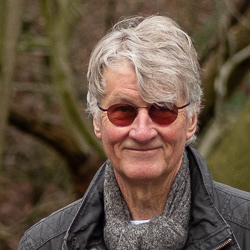 I am an amateur photographer, digital artist, and poet. I was born in the city of Haarlem in the Netherlands and trained as a scientist. I spent my working life in the development of scientific instruments but am now retired. I made my home in the UK in the early eighties and have lived in Kenilworth in Warwickshire since 1990.
I took my first photographs in the mid sixties using a Kodak box camera. I have been taking pictures one way or another ever since. Initially I used 35 mm black and white and colour negative film, developing and printing in my own dark room; later-on I also embraced colour slides. Since about 2005 my photography is exclusively digital. 
Whereas analogue photos are developed in a dark room, digital photos are processed on a computer. This offers many 
opportunities to alter the recorded image and recently I have ventured into the realm of digital art to produce abstract images.
With regard to my poetry, I wrote my first poems (in Dutch) as a teenager and continued to write for well over a decade until my muse decided to go into hibernation. At the beginning of the twenty-first century I rediscovered my drive to write, now adopting English as the vehicle for my work.
On this site I show my favourite photographs in 
Photography
 and my abstract images in
Digital Art.
 Collections of poems with a more or less common theme you will find on the 
Poetry
 page. Some of these are accompanied by photographs in an attempt to bring my two creative interests together. Occasionally, I post a background story in my 
Blog
.
If you like what you find here, please come back from time to time to check out the latest. Or even better, use the "Contact me" button below to get an e-mail when I publish new material. And please leave comments; I welcome any feedback.